MGM Grand Garden Arena | Las Vegas, Nevada
Superstar Celine Dion was in awe when she said: "if God would have a singing voice, he must sound a lot like Andrea Bocelli". Indeed, this world-acclaimed Italian tenor – opera singer, songwriter, record producer, and humanitarian is truly divine. If there ever exists a list of 'one of the concerts you should watch before you die', then Andrea Bocelli would definitely occupy the top spot. Bocelli's fans and live audience cross the genre borders, musical preferences, age and generations. So don't miss this phenomenal show –Andrea Bocelli live at the MGM Grand Garden Arena on Saturday 7th December 2019. Experience the concert of a lifetime. Book your tickets now!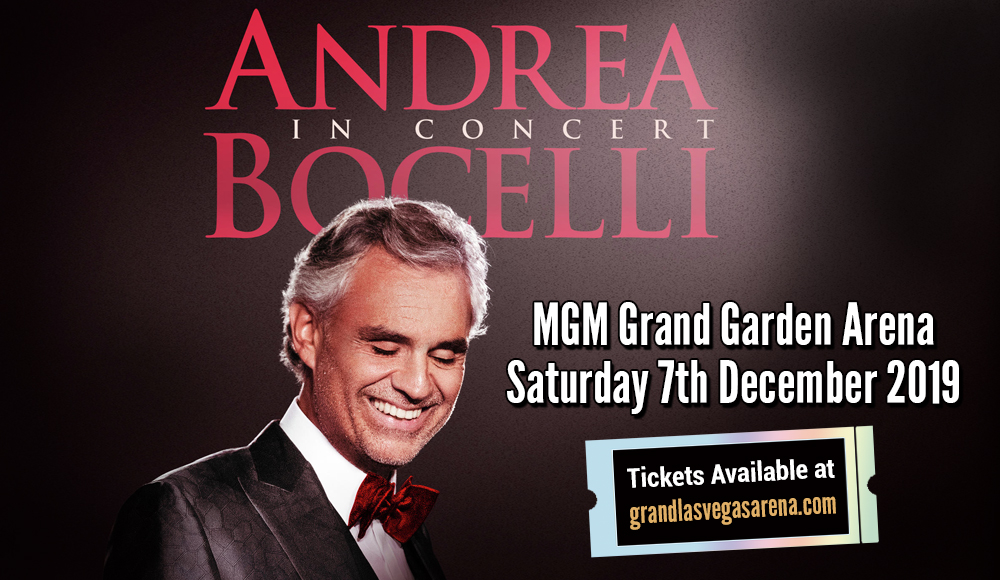 The name Andrea Bocelli is beyond musical genius and superb talent. He is a consummate artist that evokes a range of emotions and stirs the soul, elevating it to the heights of a spiritual experience. American media queen Oprah Winfrey once said — "when I hear Andrea sing, I burst into tears." Puerto Rican soprano Ana María Martínez, says, "More than anything, Andrea has something that is unique in that he brings this light that is always around him. And this purity of heart and beauty of sound just touches the listener. It can't be described." While hitmaker and renowned record producer David Foster often describes Bocelli's voice as the most beautiful in the world.
Bocelli has had phenomenal success with his career by crossing over classical music and bringing it to the top of international pop charts. With 15 solo studio albums of both pop and classical music, three greatest hits albums, and nine complete operas, selling over 90 million records worldwide, all under his name, Bocelli's career is decorated with countless awards and citations. In 1999, he was nominated for Best New Artist at the Grammy Awards. His most celebrated hit is a duet with Celine Dion titled "The Prayer", won the Golden Globe Award for Best Original Song and was nominated for the Academy Award for Best Original Song. He is also listed on the Guinness Book of World Records for the release of his classical album Sacred Arias, as he simultaneously held the top three positions on the US Classical Albums charts.
This list of milestones could go on and on, but this concert is of limited engagement only. Don't pass up on opportunity to be part of Andrea Boceli's audience. It's now or never, book your tickets now!