MGM Grand Garden Arena | Las Vegas, Nevada
It's time once again for the biggest night in Latin music, the Latin Grammys! The 18th Annual Latin Grammy Awards comes to MGM Grand Garden Arena on Thursday 16th November 2017 to celebrate the greatest artists in Latin music with a glittering awards ceremony!
Gabriel Abaroa, President/CEO of The Latin Recording Academy, has this to say about the event: "The Latin GRAMMYs™ have become the premier U.S. and international musical showcase for Latin talent, diversity, relevance, and excellence and this year we are planning to bring our audience an even more spectacular evening celebrating the hard work, perseverance and achievements of those in our artistic communities."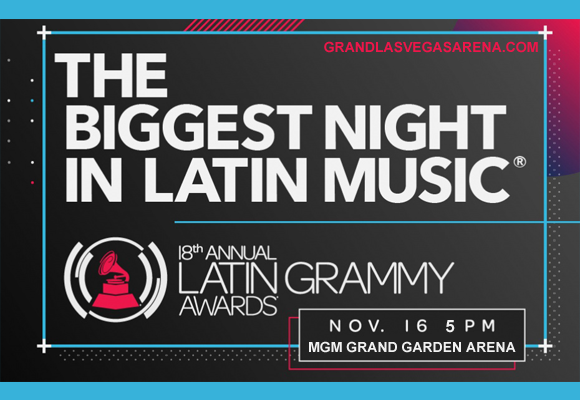 Nomination announcements for the 18th Annual Latin Grammy Awards, scheduled for September 20, have been postponed in the wake of the recent 7.1 magnitude earthquake in Mexico and updated reports regarding Hurricane Maria:
"As an outgrowth of the terrible and tragic recent natural disasters affecting Mexico, Puerto Rico, Dominican Republic, Houston, and Florida, the homes to many Hispanic communities, the Latin Recording Academy is postponing the announcement of the 2017 Latin GRAMMY nominations to a later date," said Gabriel Abaroa Jr., President/CEO of the Latin Recording Academy.
"At this time, our thoughts and prayers are with everyone affected by these catastrophic events and ones that may come."