MGM Grand Garden Arena | Las Vegas, Nevada
MGM Grand Garden Arena is proud to present the very best in entertainment, and this event is no exception! Make sure you see the sensational rock group Maná live on Saturday 16th September 2017 – it's going to be one hell of a show! With sales of over 40 million albums across the world, the hype for Maná's upcoming "Cama Incendiada" tour is very real!! Tickets on sale now, but they won't last long! Hurry and get yours NOW while you still can!!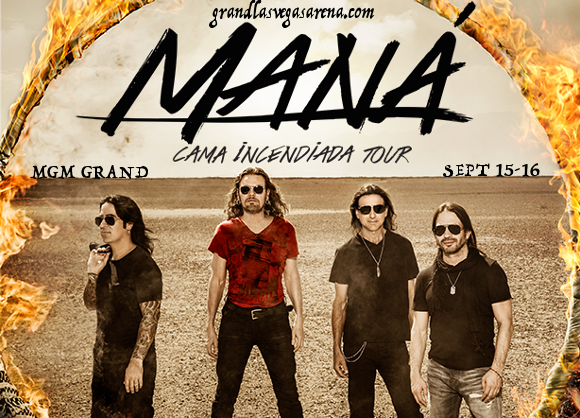 Starting out as Sombrero Verde when the band were in their teens, playing covers by bands such as The Beatles, Led Zeppelin, and The Police, they gradually began to write their own Spanish-language rock music – they were ahead of the curve, as the Spanish-roots style of rock music was not yet commonly played. With a lineup consisting of Fher Olvera, lead singer, Juan Calleros, bassist, Alex Gonzalez, drummer, and Sergio Vallan, guitarist, under the name Maná, the band soared to popularity in Mexico followed international recognition!
The band are now on tour with their ninth studio album, "Cama Incendiada," released in 2015. Get ready too hear it all live with Maná's incredible live performance – book your tickets to see them TODAY!!