MGM Grand Garden Arena | Las Vegas, Nevada
The original lineup of horror punk legends Misfits are playing MGM Grand Garden Arena on Thursday 28th December 2017!
Discussing their reunion and the possibility of recording together, bassist Jerry Only commented:
"I want it to continue. I know Doyle wants it to continue. I know Glenn wants it to continue. We just have to be big-enough people to make it continue. And that's where we're at. Whatever it takes. We're going into our 40th anniversary so the timing couldn't be more perfect. Eventually Doyle's got to write a new album; I've got to write a new album; Glenn's got to write a new album. Why don't we work together and make the greatest album ever? Now we've got different elements. We've got Doyle playing more of a metal kind of thing. We've got Dave, who we're trying to figure out what the f*** he's doing. And Glenn's got his own thing. And Acey [Slade, second guitar] fills in good, too. And I've got the band where it is today. So it's a matter of re-molding and using all the different elements that I've got."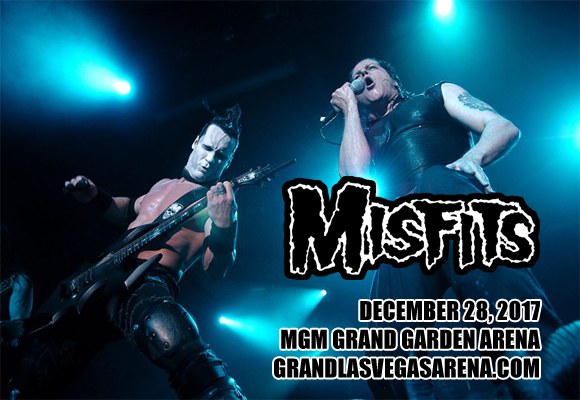 Founded in 1977 in Lodi, New Jersey, by singer Glenn Danzig, bassist Jerry Only, and drummer Manny Martínez, Misfits are a punk band, often credited with pioneering the horror punk genre. The Misfits albums Walk Among Us (1982) and Earth A.D./Wolfs Blood(1983), set a precident for the early-1980s hardcore punk movement and have influenced countless bands and artists. Misfits experienced several line-up changes over the years and, after many legal battles, in 2016, it was announced that Danzig, Only and Doyle would perform together as the Misfits for the first time in 33 years at two headlining shows. The reunion was successful, and a huge hit with fans, resulting in the band touring together in 2017.