MGM Grand Garden Arena | Las Vegas, Nevada
A true icon of music and songwriting, Paul Simon comes to MGM Grand Garden Arena on Sunday 27th May 2018 as part of his farewell tour! The sixteen-time Grammy Award-winner announced his plans to retire from performing earlier in the year, but the Gracelands star hasn't lost his passion for music:
"I love making music, my voice is still strong, and my band is a tight, extraordinary group of gifted musicians. I think about music constantly," Simon said, in a statement.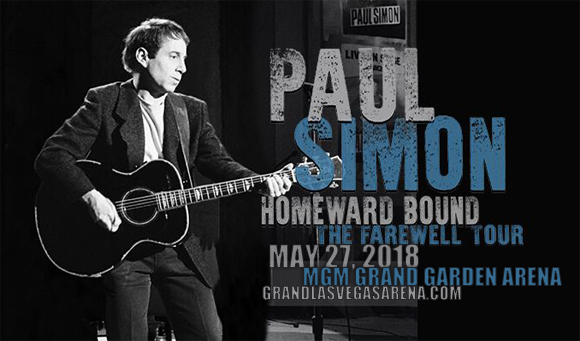 American singer-songwriter and actor Paul Simon began his career in 1964 as half of the duo Simon & Garfunkel alongside childhood friend Art Garfunkel, writing the majority of the pair's songs. The duo found fame with a string of hits, including the number-one singles "The Sound of Silence", "Mrs. Robinson", and "Bridge over Troubled Water". After Simon & Garfunkel disbanded at the height of their popularity in 1970, Simon went on to be a successful solo artist, recording three highly acclaimed albums over the next five years. Simon's 1986 album Graceland remains his most popular to date, selling 14 million copies worldwide on its release. In his seven decades in music, Simon has won sixteen Grammys for his solo and collaborative work, including three for Album of the Year (Bridge Over Troubled Water, Still Crazy After All These Years, Graceland), and a Lifetime Achievement Award, among many other honors.