MGM Grand Garden Arena | Las Vegas, Nevada
On Wednesday 27th November 2019 at MGM Grand Garden Arena for one last time, Slayer on their Farewell World Tour! Dont miss you chance and get tickets now! Supporting acts for this show are Primus, Ministry, and Philip H. Anselmo & The Illegals.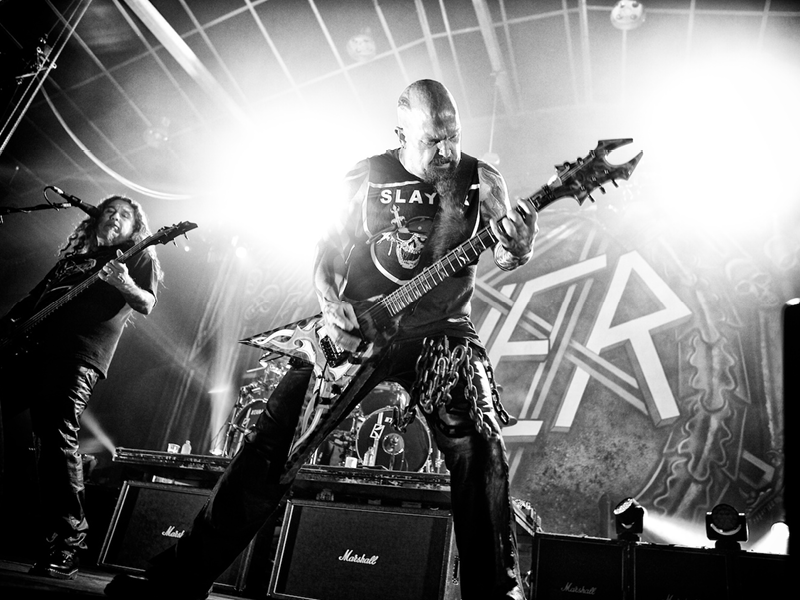 This is "The Last Campaign", the final leg of the of Slayers' The Farewell Tour, this is a once in a lifetime opportunity to see them play live for the very last time! So what are you sitting here reading this for? Buy your Ticket NOW!
Slayer's Final World Tour has been a wild ride. Three bus drivers, four truck drivers, and a crew of 32 have traveled all over the world to set the stage for this farewell. At most shows, Slayer's pyro expert set off 160 pounds of propane and 10 liters of 99% isopropyl alcohol.
"eyebrow-singeing pyrotechnics that could be felt even 10 rows behind the pit." – Phoenix New Times
In Toronto, one diehard fan was ejected from the concert before Slayer took the stage, so he jumped into Lake Ontario (that surrounds the Budweiser Arena) and swam back to the venue.
"Beginning with the throttling opener 'Repentless,' Slayer tore through their set like a flaming cigarette boat across the river Styx, charring up a vicious circle pit by the stage," – Jay Cridlin, The Tampa Bay Times'
"If Slayer does retire, there will never be a replacement, and there will never be anyone like them ever again." – Phoenix New Times
"The sheer physicality of their show was something to behold and was yet another indication that while the band may be calling it a career, they are going out on top, playing at their absolute best," – Andy Lindquist, SF Sonic
"After the final note, Tom Araya stood alone, scanning the crowd…forging a mental imprint of the moment. After a minute or two, he went to the microphone and said, 'I'm going to miss you guys.' Then he exited and the lights went up." – Guy D'Astolfo, the Youngtown Vindicator